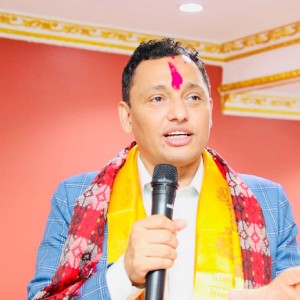 Dear Respected Members and Friends of the Non-Resident Nepali Association in the State of Qatar, I am deeply honored and profoundly grateful for the trust and confidence you have placed in me by selecting me as the President of our esteemed association. This responsibility is not one I take lightly, and I am fully committed to serving our community with unwavering dedication. Your faith in my leadership is both humbling and inspiring.
It is a testament to our collective commitment to preserving our Nepali heritage and strengthening the bonds that unite us. Together, we are more than an association; we are a family, and I am excited about the journey we are embarking upon.I want to extend my heartfelt thanks to each and every one of you who have supported me and our association. Your support is the foundation upon which we will build a brighter future for all Nepalese in Qatar.
As we move forward, my promise to you is to work tirelessly in promoting education, fostering cultural exchange, and engaging in philanthropic endeavors that uplift our community and Nepal itself. Your ideas, feedback, and active participation will be invaluable in shaping our path ahead. Let us join hands, harness our collective energy, and continue to make a positive impact on the lives of our fellow Nepalese and the wider community in Qatar. Together, there are no limits to what we can achieve.
I am excited about the journey that lies ahead and look forward to working closely with each of you.
Thank you once again for this incredible opportunity to serve as your President.
Warm Regards,
Ramesh Bhatt
President, Non-Resident Nepali Association in the State of Qatar
President Bio:
Name: Ramesh Bhatt
Address: Baglung Municipality-13
District: Baglung
Currently: Tokha Municipality-7, Kathmandu
Age: 45 years
Educational Qualification: I.A.
Arrival in Qatar: 1996 July

Pre-work areas:
1 year in Al Atshan contracting in general laborer helper
salesmen in Souq al Jabor 2 years
All Atshan Trading est. 3 years in Marketing
14 years PRO at Blue Salon, Abu Isha holding
Since 2015, he has been involved in his own construction business and has been conducting import and export business through Dhaulagiri Muktinath Enterprises Company.

Various working organizations since 2007
President of the Nepali pragatishil Yatayat Majdur Manch Qatar
Vice-Chairperson of the Nepali Janapragatishil Manch Qatar
President of the Nepali Janapragatishil Manch Qatar
Chief Advisor of the Nepali Janapragatishil Manch Qatar
President of the Baglung Sewa Samaj Qatar
Guardian of the Baglung Sewa Samaj Qatar
Vice-Chairperson of the International Baglung Samaj
Guardian of the International Baglung Samaj
Lifetime Member of the Lumbini Garden Foundation
Secretary of the Nepal Business Association Qatar
Secretary-General of the Nepal Business Association Qatar
Advisor to Bagmati Pradesh Doha Qatar
Advisor to the Nepali Janapragatishil Manch Western Asia
Non-Resident Nepali Association National Coordinating Council Executive Member 2017-2019
Non-Resident Nepali Association International Coordinating Council Member 2019-2021
Visit Nepal-2020 Middle East Coordinator